Research Projects
The Translational Neuroengineering Lab at UC San Diego conducts interdisciplinary research that integrates domain-specific knowledge from the fields of basic neuroscience, systems engineering, signal processing, and machine learning. The projects presented below are actively being pursued, and are grouped by their larger themes.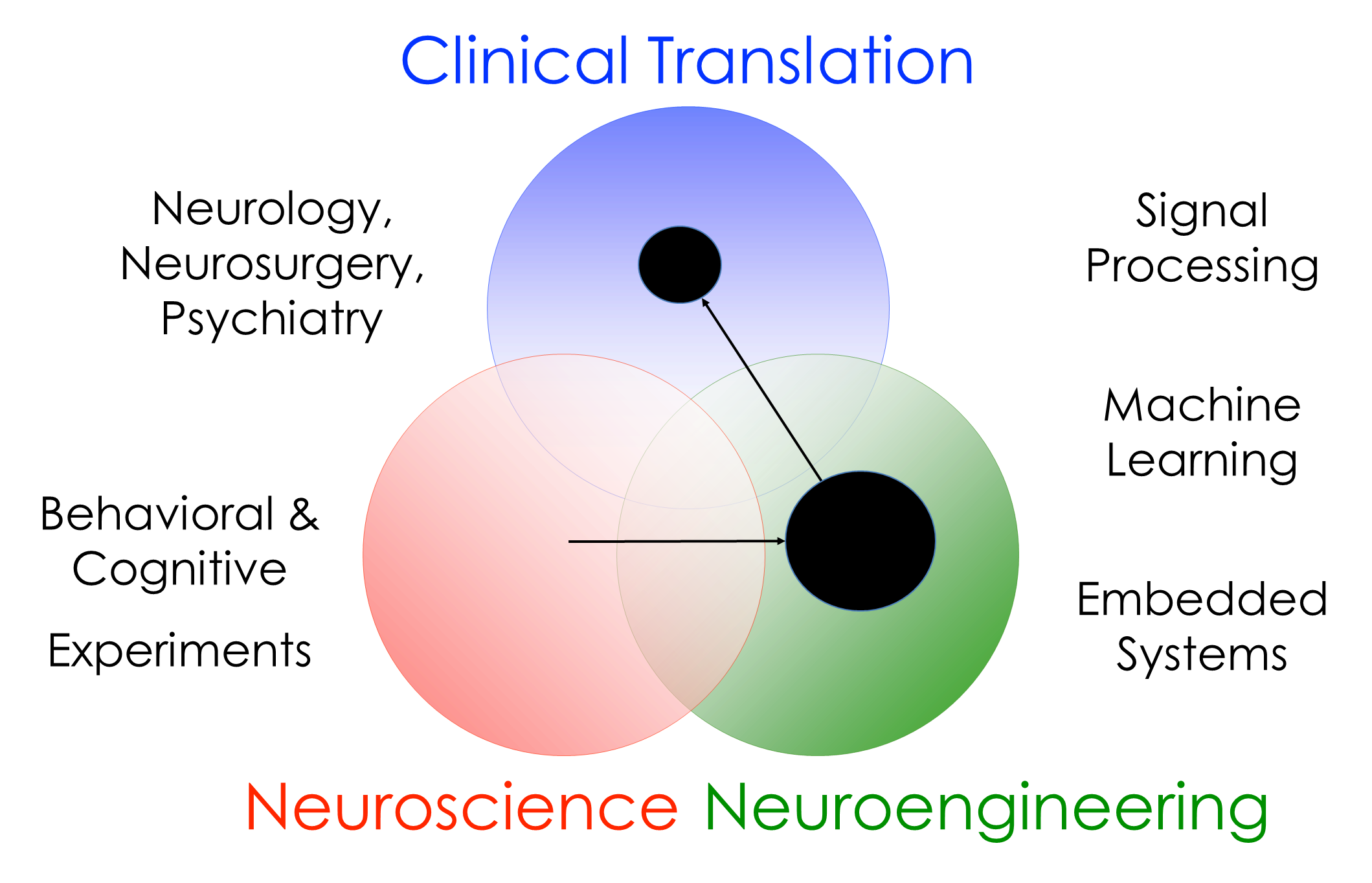 Active Projects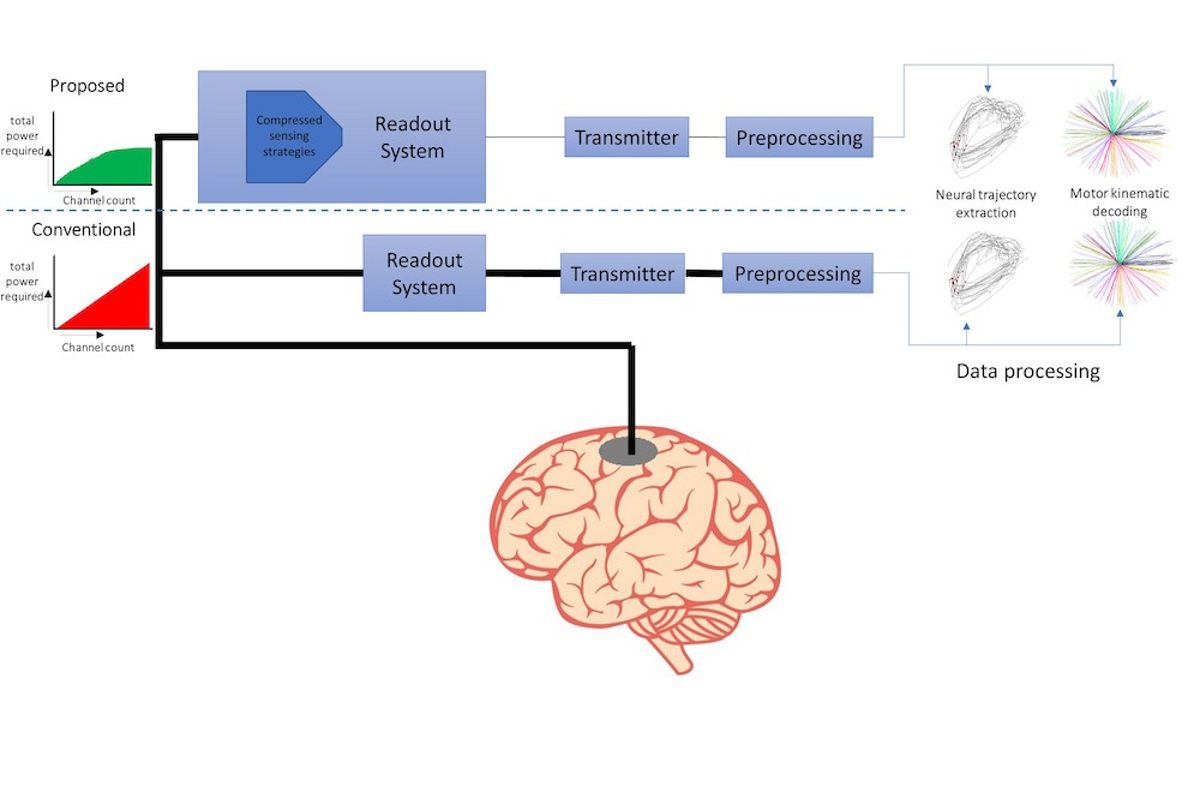 Neuron Channel Compression
Abdullah A
The number of channels in high density electrodes continue to grow exponentially over the years. With current architecture it is bottlenecked due to heat generation and power requirement. This project aims to look into developing channel compression methods in order to decrease the output dimensionality without dropping channels or losing information. Methods are built with the objective of retaining latent neural dynamics.
Keywords: Latent dynamics, neural prosthesis, factor analysis, compression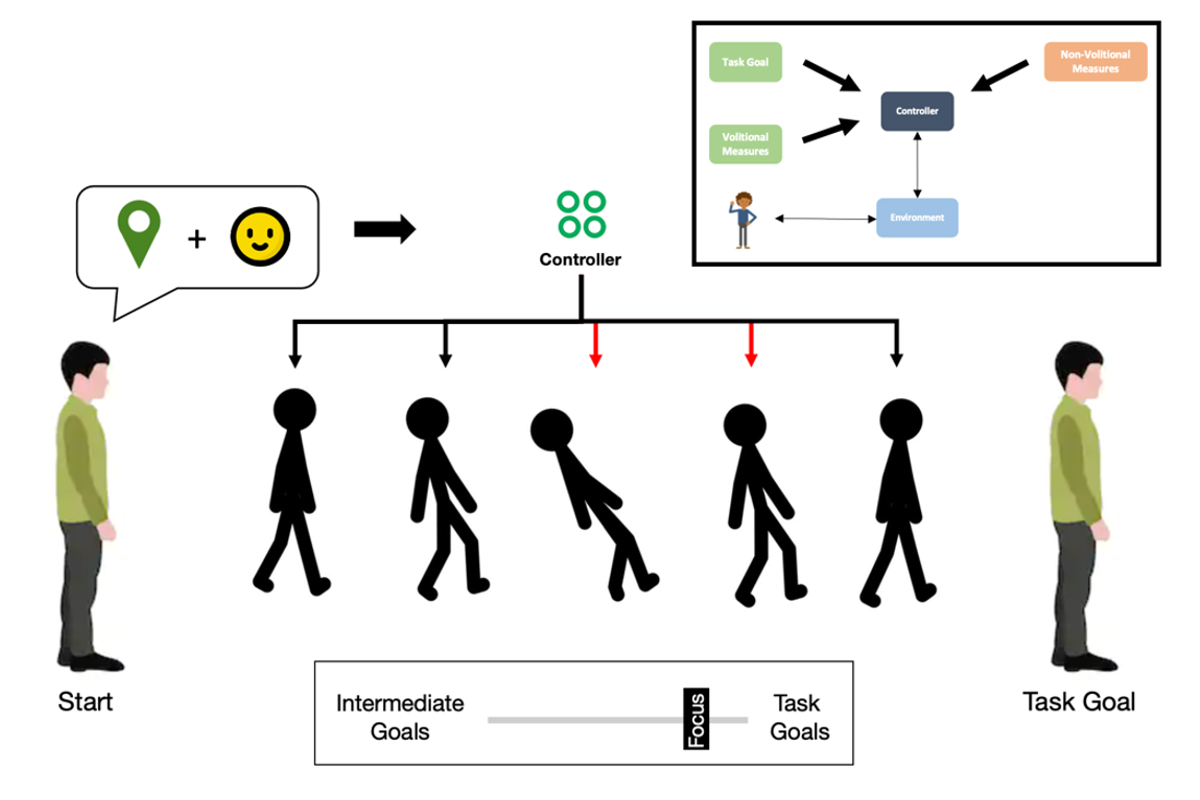 Non-Volitional Neural Prostheses
Aashish P, Sophia H
Current high-performance prostheses map neural responses to volitional movement commands, such as the intended movements of a limb or of a computer cursor. Here we are exploring the use of non-volitional neural responses as modulatory input to intelligent controllers. We leverage recordings from sEEG/ECoG in clinical subjects engaging in various games/tasks and apply machine learning techniques to characterize significant non-volitional neural responses.
Keywords: sEEG, EEG, 2D game development, emotion detection, limbic signal detection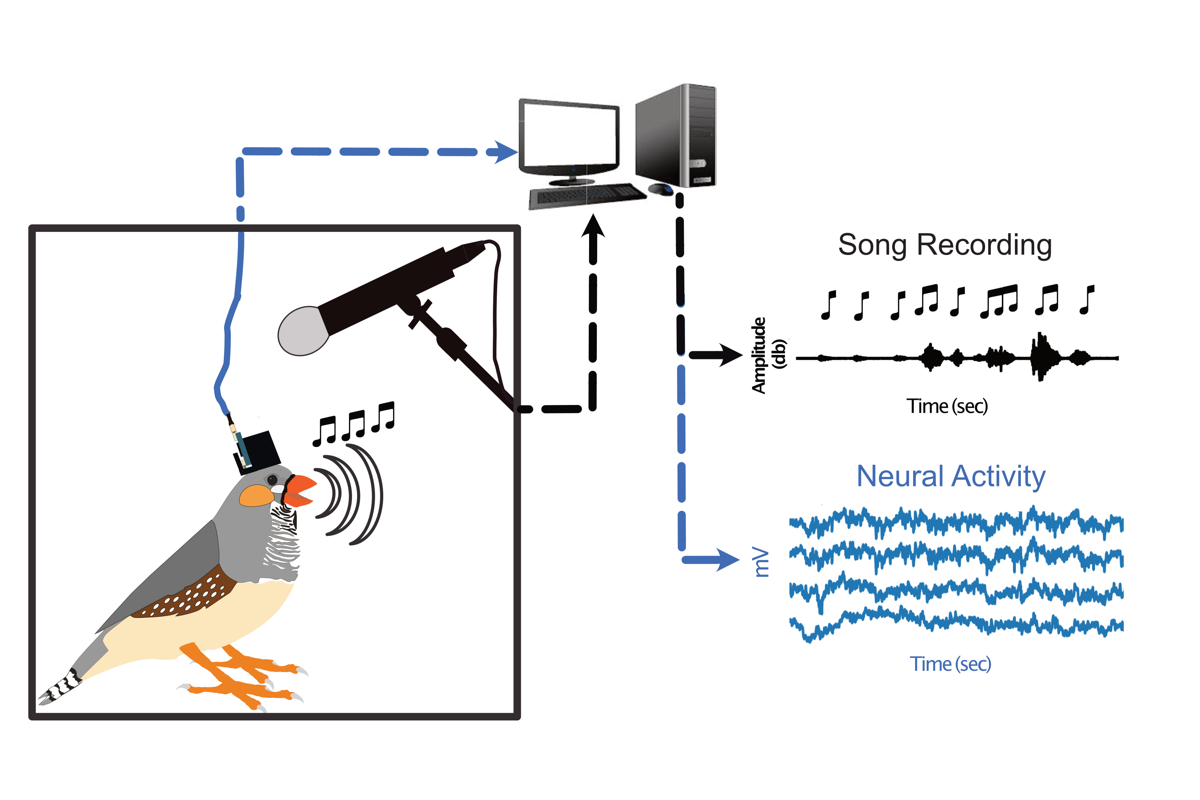 Neurally-Driven Vocal Prostheses for Songbirds
Daril B, Pablo T, Zeke A, Aparna S
Development of neural-activity driven speech prosthesis, using an avian model that includes Zebra finch and Starling birds. This project demands a continuous, in-parallel integration of systems engineering and the mapping algorithms that predict song intention from neural activity. The former is focused on designing an experimental setup that allows multi-channel, simultaneous recordings of neural activity from different brain nuclei along with vocal behavior during hours-long periods of time. The latter is focused on the characterization and modeling of the neural dynamics of vocal production, informing the design of statistical signal processing and machine learning algorithms that use neural activity to effectively predict song behavior.
Keywords: Vocal prosthesis, brain-machine interface, neural dynamics, free vocal behavior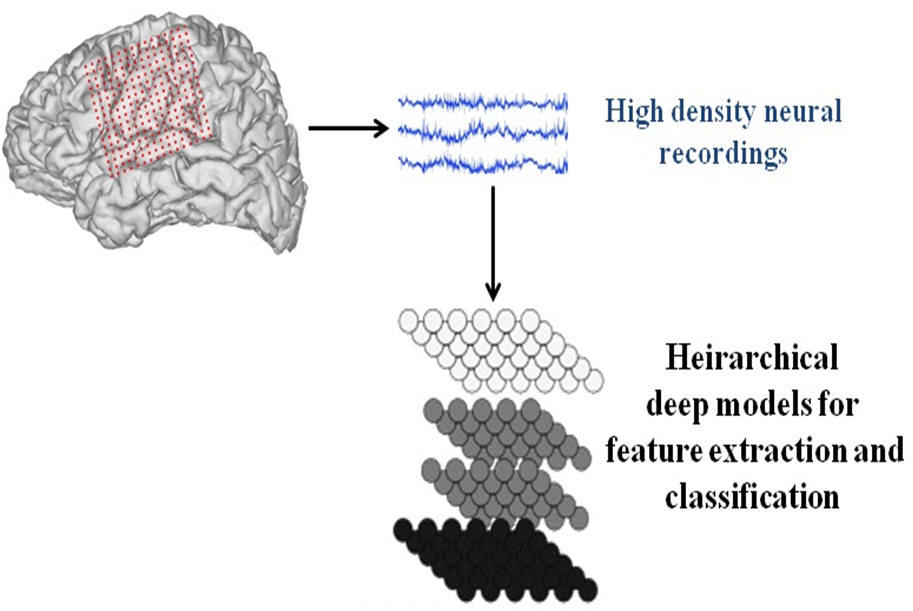 Using Deep Learning Techniques to Decode Neural Signals
Tejaswy P, Paolo G, Jiaming L
Powers in specific frequency bands are features traditionally used in ECoG based BCIs. However, these hand picked features may not be optimal for classification tasks, which is critical to BCI system performance. We use deep learning architectures to simultaneously extract task relevant features and design classifiers. In addition, we explore deep learning methods to model non-stationarities and noises common to neural signals. By visualizing and understanding the intermediary layers learned by a trained network, we hope to understand the underlying non-linearities in neural signals.
Keywords: BCIs, deep learning
Past Projects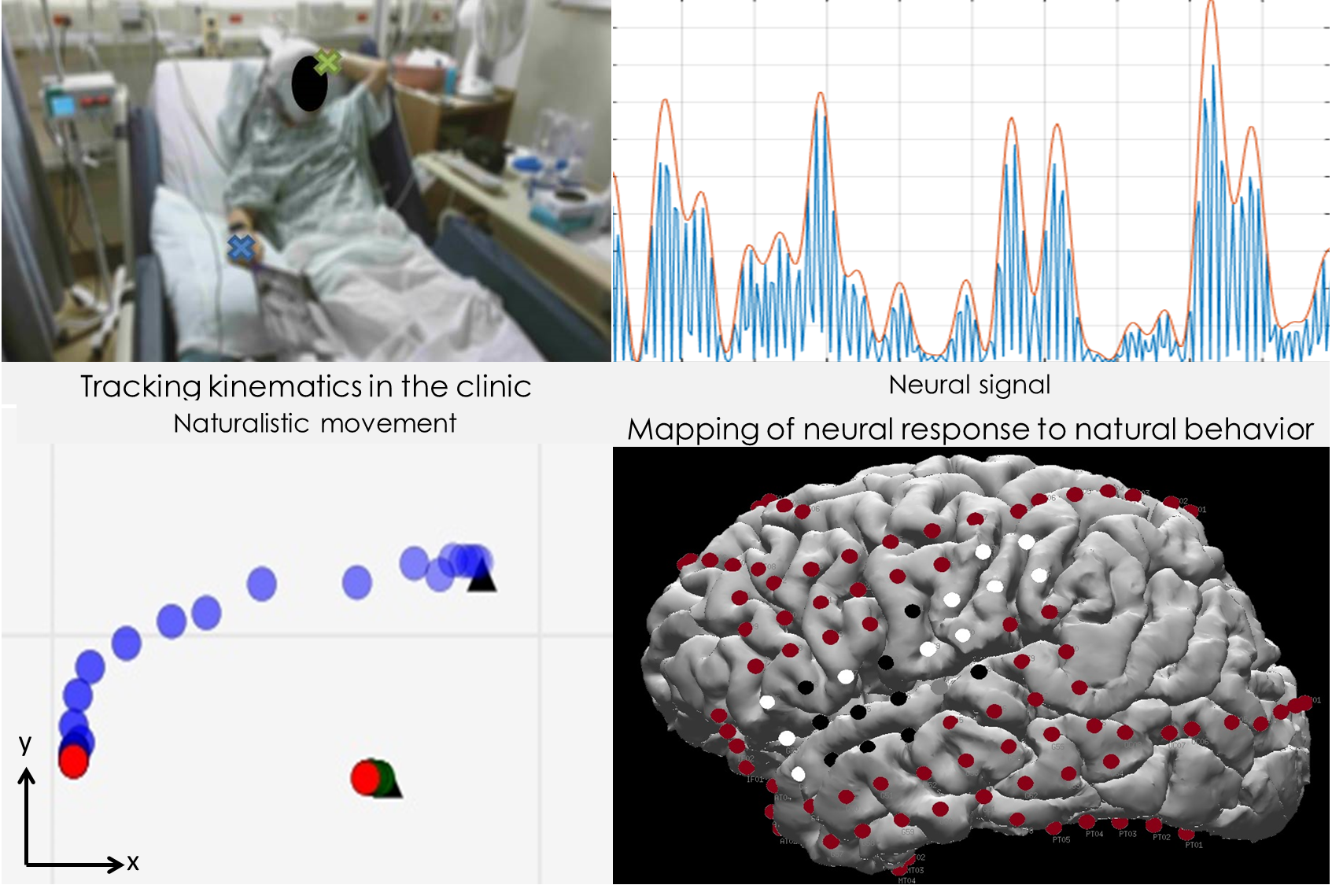 Free Behavior Analysis
Paolo G, Wahab A, Kenny C
To explore the relationship between neural activity and complex human behaviors, we simultaneously capture aspects of natural human behavior and neural signals from electrodes implanted across the cortex. This work pursues two paths - improved quantitative behavioral tracking, and the application of machine learning techniques to extract descriptive neural features.
Keywords: naturalistic behavior, generalized brain-machine interfaces, epilepsy monitoring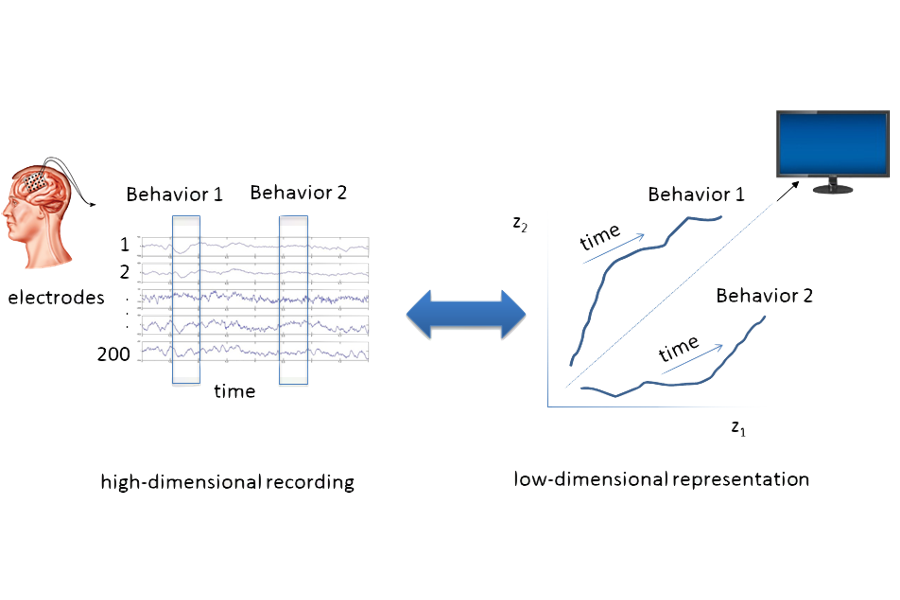 Neural Dynamics for Prosthesis Design
Akin O
As the number of channels in ECoG recording technologies increases into the hundreds and eventually thousands, our goal is to develop tools to analyze the dynamics of low-dimensional neural trajectories derived from high-dimensional ECoG recordings in order to identify robust neural features for neural prosthetic applications.
Keywords: ECoG, neural trajectories, low-dimensionality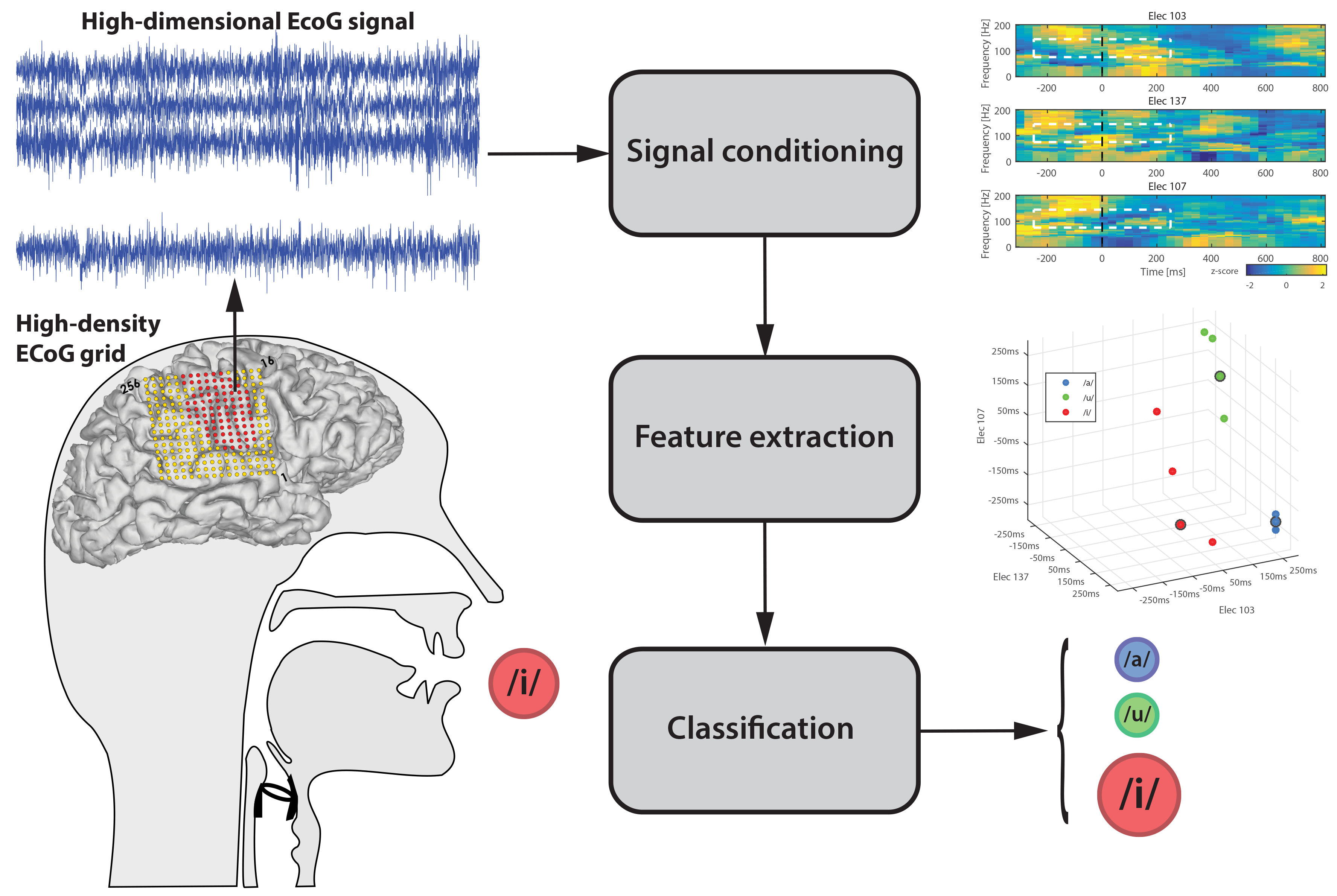 Real-time Speech Decoder
Werner J, Tejaswy P
For individuals with neurodegenerative disease, such as ALS, or injuries resulting in motor impairment, the ability to communicate and interact with the world can be severely limited. Our group seeks to develop a neurally-driven speech prosthesis that enables these individuals to communicate fluently.
Keywords: human speech prosthesis, brain-machine interfaces, neural decoding, statistical modeling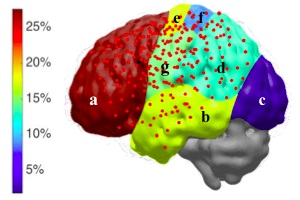 Online Decoding of ECoG Signals
Aashish P, Venkatesh E, Francis B
Current communication prostheses often utilize static, computer-paced user interaction and decoding schemes to maximize communication accuracy or information transfer rate. By exploring loosened timing constraints while retaining communication decoding performance, our goal is to improve user interaction towards free-pace control.
Keywords: ECoG, brain-machine interfaces, neural decoding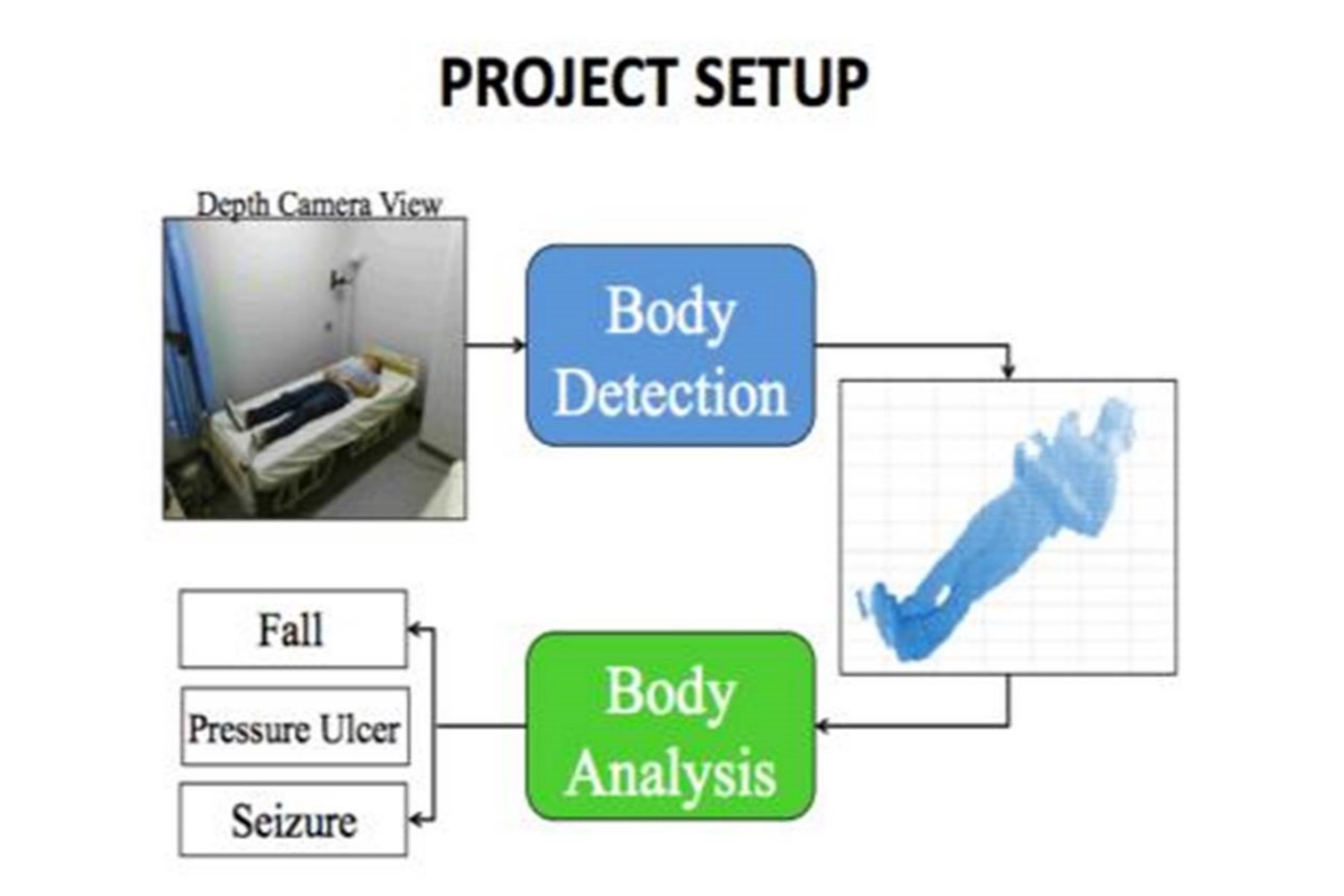 Hospital Patient Monitoring System
Francis B
We introduce a low-cost, minimally intrusive system for the detection of high-risk postures and movements for patients. Our current focus is on the detections of when a patient leaves the bed surface and when a patient moves body based upon detection of the bed surface and patient body analysis.
Keywords: image processing, computer vision, depth image frames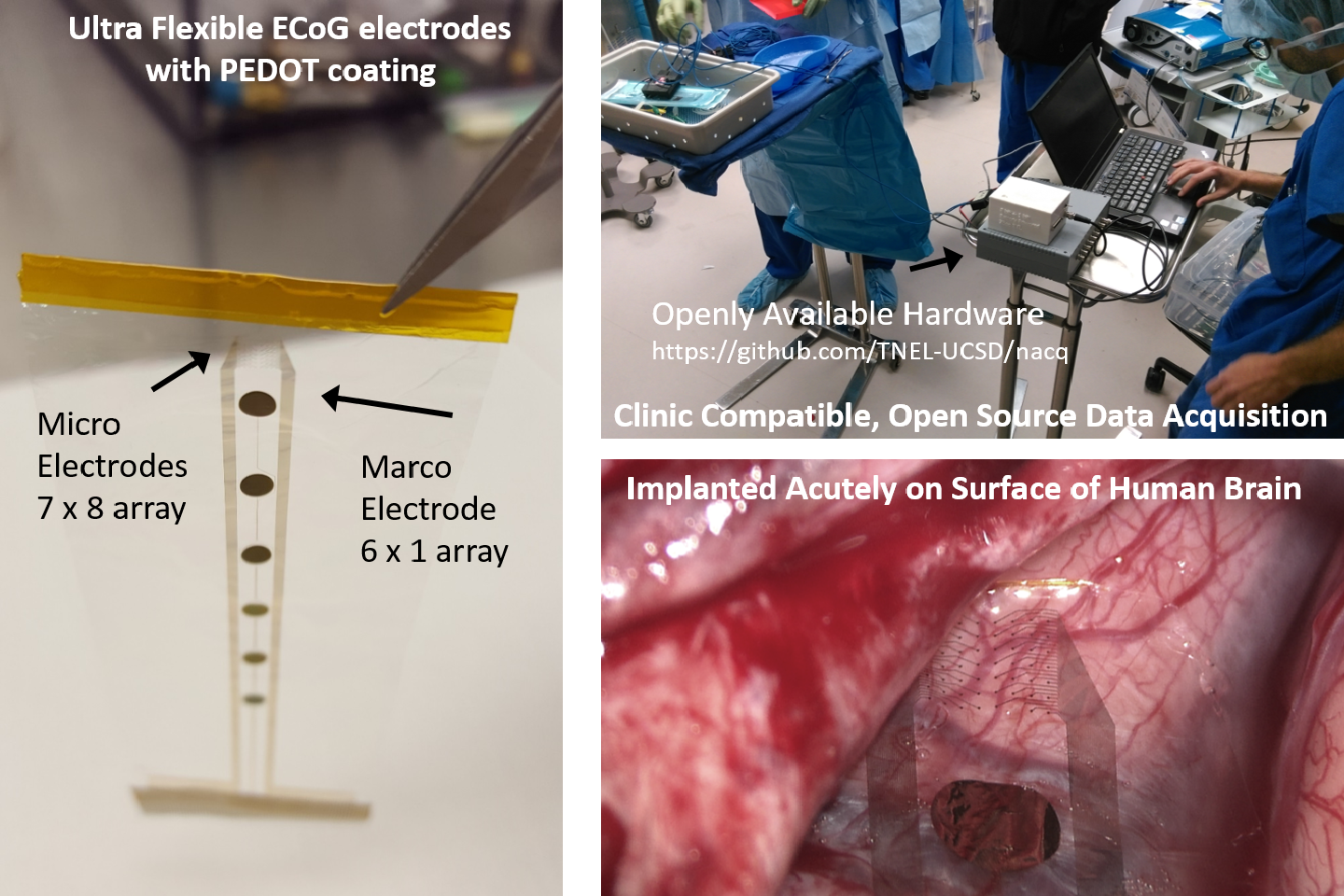 Clinical Translation of Novel Neural Interfaces
John H, Nick R, Hannah C, Andrew S
New arrays of electrodes used for electrocorticography (ECoG) are becoming smaller, more dense, and of lower impedance, making them an increasingly useful tool for neural recording. We combine animal and clinical work to advance ECoG recording capabilities for both chronic and acute applications.
Keywords: PEDOT, high density, flexible
Funding